For all investors wondering when the stock market is going to bounce back, here's your answer: In 2023 – and in a major way. 
The logic is exceedingly simple. 
Inflation caused the 2022 stock market crash. Its opposite – disinflation – will spark a massive 2023 stock market recovery.
Sure, it may not feel like prices are falling. Gas is still expensive. Groceries are, too. And travel prices are still absurd. 
But the data says that prices are, indeed, falling from their summer peak. The Federal Reserve's favorite inflation gauge – PCE – has been declining since June. You may not have noticed it. Most people didn't. But history suggests this multi-month, mundane slide in rates is a precursor to rapid disinflation in 2023.
When that happens, a stock market boom will, too. I think it could be one of the biggest market rallies since 1950. Investors positioned in the right stocks in 2023 will make fortunes. 
But you have to be in the right stocks… 
Here's what I mean.
The Disinflation Snowball
For all intents and purposes, inflation peaked in June 2022 with the PCE rising 7% year-over-year. Since then, the PCE has fallen steadily to about 6% last month. 
That's not a big move. We're down 1% over four months, meaning inflation is slowing by just 25 basis points per month. That's pretty slow. And because it's more of a trickle, a lot of consumers are still feeling the effects of red-hot prices. And a lot of investors are skeptical that we've reached peaked inflation. 
But don't be fooled by the relative slowness of the disinflation trend. This is all a part of the "disinflation snowball." 
That is, scorching hot inflation doesn't turn into rapid disinflation overnight. The change builds like a snowball rolling down a hill – slowly at first. But as it moves further down the hill, it picks up speed and mass and eventually becomes very forceful and fast.
Let's look at the last two (and only other) times in modern history that the U.S. economy was dealing with red-hot inflation: 1974/75 and 1980-82. 
Inflation peaked in October 1974 at 11.6%. Three months later, inflation had dropped to just 11.1%, representing a mere 17 basis points of disinflation per month. A year after that, though, inflation had collapsed all the way to 6.4%, meaning that over that stretch, the disinflation pace accelerated to about 39 basis points per month.
Meanwhile, in the '80s, inflation peaked in March 1980 at 11.6%. Eight months later, it had dropped to just 10.8%, a decline of only10 basis points per month. By April 1982, though, it had collapsed to 5.3%, representing a disinflation pace of 30 basis points per month. 
Get the point? In both previous eras that the U.S. economy encountered red-hot inflation, that red-hot inflation died slowly at first, and then rapidly fell off a cliff.
We're in the first phase of the disinflation trend in 2022. Inflation is falling slowly right now. But history suggests that what comes next is significant rapid disinflation in 2023.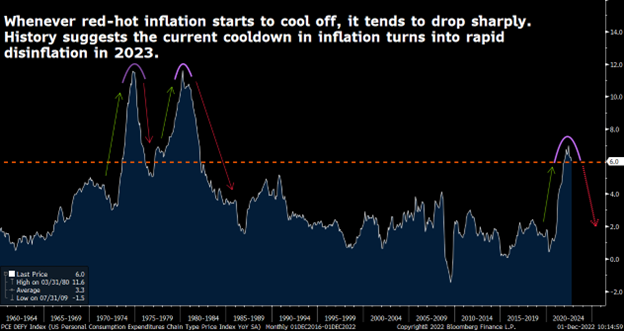 As inflation nosedives in 2023, stocks should soar. 
Disinflation Sparks Big Stock Market Rallies
It makes sense that if inflation is a huge problem crushing stocks, then when that problem is solved, stocks should soar. 
That's sensible. More than that, it's historically accurate. 
As stated above, the U.S. economy has had two bouts of red-hot inflation in modern history that are similar to what we're seeing right now. Both times, stocks soared after inflation peaked. 
Inflation peaked in October 1974. From that month, stocks soared 45% over the next few years. Inflation again peaked in March 1980. From then, stocks soared 61% over the next few years.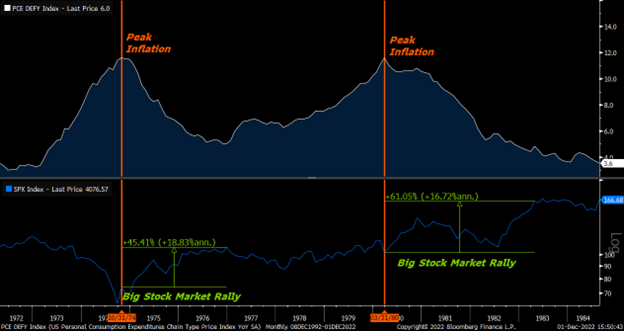 History is pretty clear here. Peak inflation tends to coincide with stock market bottoms. And as inflation turns into disinflation, stocks tend to soar.
We hit peak inflation in June 2022. The stock market pretty much bottomed around then, too. In 2023, we'll see rapid disinflation. As that happens, history will repeat, and stocks will take off.
We believe it could be a record year for the stock market. And we have the perfect stocks to buy in 2023 for this record year.
The Final Word on Crashing Inflation
Inflation broke the stock market in 2022. But inflation is starting to fall, and history suggests that what comes next is a huge disinflationary plummet. As the thing that broke the stock market in 2022 disappears, stocks will recover.
And the recovery won't be small.
The S&P 500 is on pace to drop more than 15% in 2022. That's rare.
The last time it dropped more than 15% in a year? 2008. The market went on to soar 24% in 2009.
Stocks also dropped more than 15% in 2002 and 1974. The market soared 26% in 2003 and 32% in 1975.
History says 2023 will be a 25%-plus positive year for the stock market, which would make it one of the best years for Wall Street in over 70 years.
But certain individual stocks will rally much, much more than 25%. After all, the last time the market soared over 25% in a year (2021), more than 20 stocks rose more than 1,000% in that same year!
We're looking for those potential 1,000% winners next year.
If you are, too, click here to learn more about how to find them.
On the date of publication, Luke Lango did not have (either directly or indirectly) any positions in the securities mentioned in this article.